Support a mix of multiple video formats using the Videohub 80x80 12G Zero-Latency Video Router from Blackmagic Design. This advanced router provides 80 x 12G-SDI inputs and 80 x 12G-SDI outputs for routing any combination of SD, HD, UHD 4K, and DCI 4K video. The Videohub 80x80 12G centralizes all your SDI cables in one hub, enabling you to connect any video input to any video output, or even a single video input to multiple video outputs while eliminating clusters of cables and the need for complex diagrams. This versatile unit can be used with multiple HyperDeck recorders for redundant mastering to route video to multiple streaming processors for all your broadcast platforms, or to add extra inputs to an ATEM switcher.
12G-SDI Multi-Rate Connections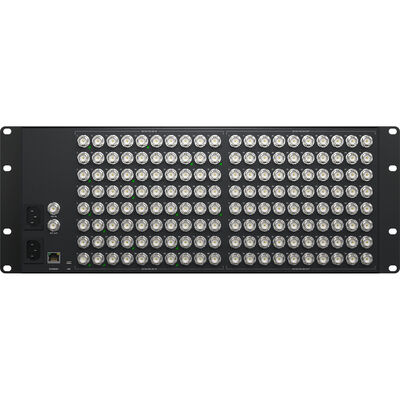 Multi-rate 12G-SDI connections enable you to route up to 80 different video standards at the same time.
Supports up to DCI 4K60 video resolutions.
Provides 4:2:2 8 or 10-bit color routing in any standard.
Works with 4:4:4 12-bit SDI up to DCI 4K30 for feature films.
SDI Reclocking
Reclocking on every 12G-SDI input regenerates the signal, providing the maximum video quality.
Reduces or eliminates signal loss and jitter when using longer cables.
Front-Panel Controls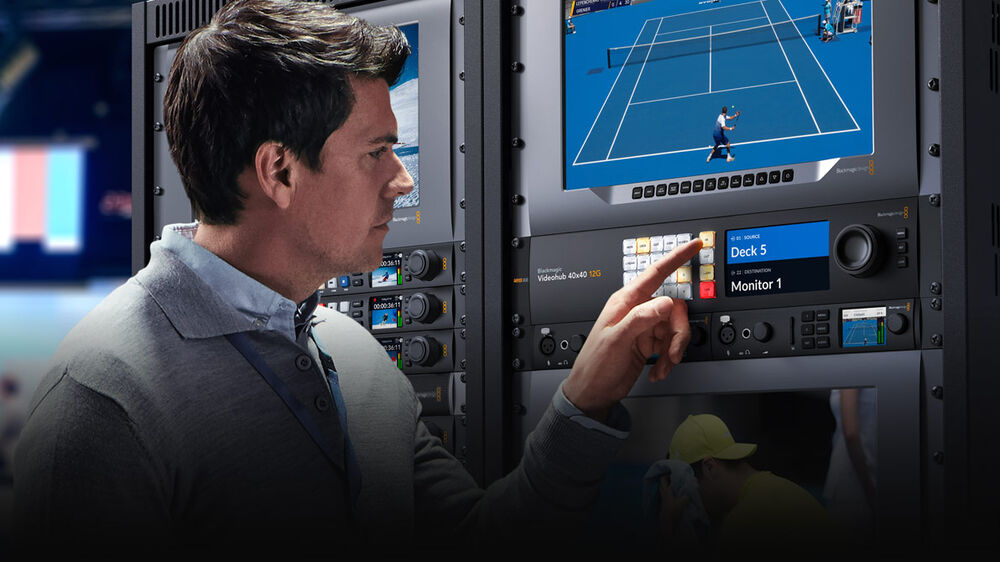 A sleek front panel offers multiple control options.
Buttons include assignable shortcuts and In, Out, Clear, and Take buttons.
The machined metal spin knob provides precise control using an electronic clutch.
Optional Hardware Control Panels
Can be used with optional hardware panels for easier control when components are spaced out in large facilities.
Compatible with both the Videohub Master Control Pro and the Videohub Smart Control Pro.
Flexible Control
The Mac and Windows-compatible Videohub Software Control provides easy-to-use touchscreen router control.
Built-In LCD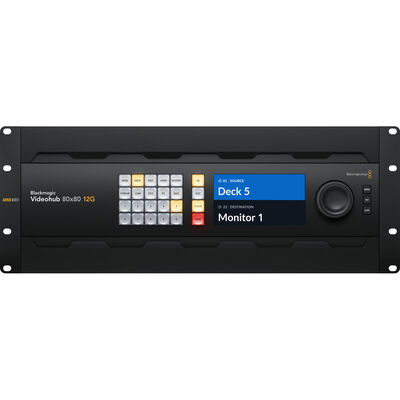 View your live input before routing the signal on the built-in 5" LCD screen.
Bottom labels enable you to scroll through your sources in alphabetical order.
Eliminates the need to add an external SDI monitor to your setup.
Setup Utility and SDK
Use the Videohub Setup software to get started or the SDK to add protocol support for broadcast automation systems.
Multiple Language Support
Customized support is available in:
English, Chinese, Japanese, Korean
Spanish, German, French, Russian
Italian, Portuguese, Turkish, Polish, Ukrainian